February was full of fun activities! Everyone learned about the mail and what happens to your letter after you put it in the mailbox. We all enjoyed giving and receiving valentines! Our testing is all done for our 4- and 5-year-olds and evaluations have been sent out. The 3-year-old classes had fun learning about snowmen, dinosaurs, and creation. Second report cards for our younger classes will be sent out before spring break.
Our 2018-2019 registration is ongoing. If you know someone who would like information, have them call us at 396-3125 or email. All classes meet from 9-11:30.
Our spring break will be March 12-16, same as CR schools.
Please mark you calendars for March 19th to donate blood! Mississippi Valley Blood Center will come here and set up in the Gathering Space. Your time from check-in to check-out is less than an hour. Please sign up to donate; our area is in desperate need. Call Leslie at the Preschool to sign up at 396-3125!
I can't believe there are only 3 more months left of school! I'm ready for spring and we can't wait to see all those flowers come up in front of our windows again! I want to remind everyone that we will be offering a 6-week (two 3-week sessions) summer school program in June and July. This program is for current Noah's Ark students only. I will give more details next month.
Have a great March!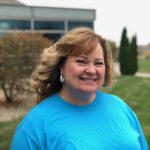 In Christ,
Leslie Clauson,
Director