"We love each other because He loved us first." ~ 1 John 4:19
This verse had been on my heart quite a bit since I have accepted this new position. I see this verse in every aspect as I discover how awesome our school is. Our staff is a living testament of this scripture. Because we are loved, we are able to instill a great love to our students. Our students see this love and crave it from us. The school has been blessed for the last 16 years under Leslie Clauson's love. We truly thank her for her service in this ministry. We will miss her desperately.
We have concluded our 49th year of school with 47 wonderful students. We have parents who are raising their children in His love. The end of the year is bittersweet. We've seen our students grow and accomplish so much! We will miss those students who will be attending other schools next year. A piece of our heart goes with them. We rejoice to know that many students will rejoin us again next year!
Summer School plans are in full swing. We offer two 3-week sessions in June and July. If your student isn't signed up, we still have a few spots left. Contact us by email or call 319-396-3125 for more information.
We ask for prayers for our upcoming 50th Year of Preschool at Noah's Ark.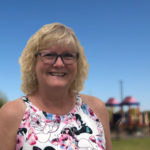 Kris Crowther
Director of Noah's Ark Preschool